Case Study
Forward Financing's Financing Volume Doubles, Employee Efficiency Soars

Eustace Consulting was terrific, very responsive and good at understanding our business and our pain points, then implementing solutions that weren't quick fixes, but really solved issues and optimized processes.
Justin Bakes, Forward Financing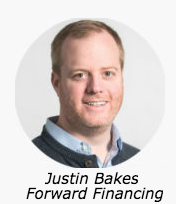 Headquartered in Boston, MA, Forward Financing provides capital to small- and medium-sized businesses that may not have access to traditional bank financing. The company was founded in 2012 and employs 55 people. Its unique value proposition is that it can turn around a financing request in one business day, so its processes must be smart, streamlined and efficient.
The Problem:
Forward Financing had been using Salesforce for about two years as a customer relationship management tool, but it became clear that the system was not doing what the financing company needed it to do. Departments and their roles were not adequately differentiated; everyone had access to the same information, limiting data control; workflows were not well defined; processes were cumbersome; automation was minimal; and reporting capabilities were nonexistent.
CEO Justin Bakes knew that the system was not optimizing Forward Financing's ability to serve its customers. So he set out to find an expert that could tailor the system to the small business financing company 's distinct needs and accommodate its aggressive plans for growth.
The Solution:
Forward Financing was referred to Eustace Consulting, a leading Customer Relationship Management (CRM) Solutions Provider specializing in Salesforce. Eustace Senior Implementation Consultant Heather Sands got to work immediately, beginning with a thorough audit of Forward Financing's data. She quickly determined that the data structure was problematic, with a lot of duplication that slowed down processes. "Clean data is critical to a business like Forward Financing that is heavy on processes," explained Sands, who has a deep background in business operations as well as Salesforce. "The company's data has to be accessed across multiple teams quickly and efficiently. We started from scratch and stripped away the redundancies, used standard data fields and then created processes and automation that conformed to how the company works."
The Eustace team immersed itself in Forward Financing's internal workings in order to build functionality that supports how the five teams that touch each potential deal operate independently and together. Eustace's improvements to the system first helped better define team roles, then went on from there. "One of the trickier parts of this engagement is that unlike some other businesses, Forward Financing's sales process is cyclical, not linear, so the hand-offs don't go only in one direction," said Sands. For example, a potential financing request can bounce back to a team that has already worked with it if additional information is needed. Eustace's improvements accommodated those complexities.
Eustace also helped Forward Financing's internal technology team build customized integration for some of the other applications it required, including e-signature, Heroku development, and automatic document generation.
Sands did much of her work on Forward Financing's system after hours, so staff was able to continue servicing clients with no interruption. And because the improvements were iterative, the learning curve for users was minimal. "Everything Heather did was well-documented and she explained things really well, so staff had no issues adapting to the improvements she made," said Bakes.
The ROI:
Business has been booming in the eighteen months since Forward Financing engaged Eustace, and Bakes attributes much of his company's healthy bottom line to the improved technology system. Since working with Eustace, Forward Financing has:
• More than doubled the number of credit decisions it makes per month, a key metric in a competitive industry in which speedy determinations are critical
• Increased financing volume by 243% or about 2 ½ times
• Doubled employee efficiency
Forward Financing's system serves as the strong, yet supple, backbone of the organization— calling leads, managing the financing pipeline, organizing the funding queue, managing workflows and automating tasks. Sands significantly increased the number of Apex triggers, accounting for a good portion of staff productivity improvements, thanks to the automation the triggers and automation enable.
"Eustace Consulting was terrific, very responsive and good at understanding our business and our pain points, then implementing solutions that weren't quick fixes, but really solved issues and optimized processes," said Bakes. "I highly recommend them and do so constantly."
He continued: "With our improved system, the quality of our interactions with customers has improved exponentially, thanks to our ability to communicate with them better." The improvements have also enhanced his employees' day-to-day experience because the technology boosts their ability to serve customers. And the beauty of the improved system is that it is flexible enough to accommodate his company's steep growth trajectory, added Bakes.